"eye-popping imagery, thought-provoking metaphor and unvarnished dancing in a brilliant, seemingly effortless union"
Times Union, Albany
Artists' Talk
Art Bridgman and Myrna Packer explain their choreographic process and its integration with video technology. Including slides and video excerpts, they describe the history and development of their unique concepts of Video Partnering and demonstrate their use of green screen technology, Final Cut Pro, and live camera stage set-up. A performance of an excerpt of their repertory and/or audience participation in a short demonstration of live camera work can also be included.
Required: a dance studio or theater space that can achieve a visual blackout, appropriate set-up time and technical assistance to be discussed with presenter.
Video Playground (Interactive Video Installation)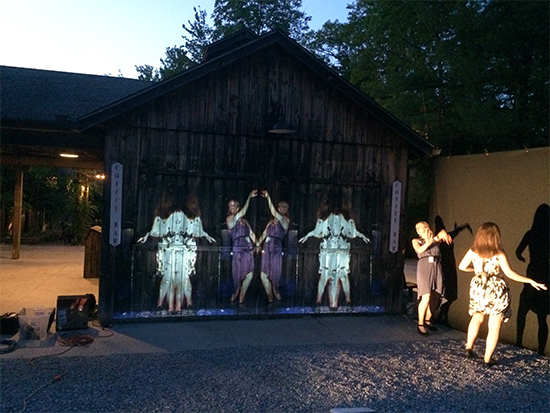 Interactive Video Installation at Jacob's Pillow Dance Festival 2016
This engaging interactive installation invites participants of all ages to experience the magic of Bridgman|Packer Dance up close and personal. Video Playground allows participants to play with scale, juxtaposition of shadow and video imagery and to explore the duality and morphing of self and image. This live interactive installation can be projected in public spaces – bringing to life the architecture in a community and new meaning to familiar places.
School Shows
In conjunction with Bridgman|Packer's stage performances for general audiences, they offer a separate, accessible and exciting school program that gives students first hand experience of dance, video, performance and the creative process. Performances can be arranged either with the students brought to the theater or as an assembly program at the school. These shows are made age appropriate for either elementary, middle, or high school students.
Art Bridgman and Myrna Packer perform sections from their repertory and show how they incorporate video, innovative movement, partnering, and original music into their works. Audience participation is often included.
These programs have been highly successful with elementary through high school age students throughout the United States. Study guides for teachers to prepare their classes are available.
"The feedback was tremendous, and is ongoing! The group that I had immediately after had a heated debate about aesthetics, which was absolutely fabulous. There was a sense of awe in how the choreography worked with the video, and the level of synchronization that took place between the video and the dancers. Their talk spilled into the next period, two days later, and the general consensus wound up being that the kids felt this was the most impact-delivering artistic event they've ever had in school."
Tom Jordan, faculty, Hammocks Middle School, Mamaroneck, NY